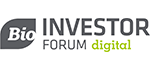 Thank you for your interest in the 2020 BIO Investor Forum!
Your code will be emailed to you shortly.
Learn more about the BIO Investor Forum:
Want to save more?
BIO Membership provides the best discounts on BIO events and offers significant, volume based discounts on products and services with more than 12 leading suppliers through BIO Business Solutions.*  Contact our membership team to learn more. 
*Members of BIO and most state and regional biotechnology associations can participate in the BIO Business Solutions program, for no charge, as a benefit of their membership.