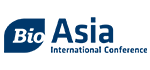 Below is a list of companies presenting at the 2020 BIO Asia-Tokyo conference.
AbClon
Accurna
Anima Biotech
API Co.
BioInvent International
Bionoxx
Biorchestra Co.
Biotome
Boston Pharmaceuticals
Delta-Fly Pharma
Eloxx Pharmaceuticals
Engine Biosciences Pte
Golden Biotechnology
IQVIA Services Japan K.K.
JOGO Health
Liminal BioSciences
M Bio Technology
NeuroVis
Newron Pharmaceuticals
Phenex Pharmaceuticals
Quark Biosciences
*as of 1/24/2020
Company presenters tend to receive double the number of requests than non-presenters, and schedule twice as many meetings than non-presenting companies. Presenting companies are also spotlighted in BIO's marketing materials leading up to the event, as well as onsite.