10 Days Until BIO Digital
This newsletter has you covered with planning tips and big announcements to help you make the most out of BIO Digital Week!
Time is running out to register for BIO Digital! Register today and join thousands of biotech and pharma professionals online, June 8-12. Still not convinced? Check out our new animation video and learn why you should join us — in less than 60 seconds.

What's Trending This Week

The BIG news from this week is Dr. Anthony Fauci, National Institute of Allergy and Infectious Diseases Director, and Dr. Moncef Slaoui, Head of U.S. Operation Warp Speed, will be headlining BIO Digital in a special 3-part plenary session, sponsored by Johnson & Johnson. Here's why you can't miss it:


Dr. Michelle McMurry-Heath, BIO's incoming President & CEO, will discuss the science emerging amid the COVID-19 crisis with Dr. Fauci during an intimate fireside chat.

Dr. Slaoui will share what it takes to develop a COVID-19 vaccine and deliver billions of doses around the world. He will be joined by speakers from the Coalition for Epidemic Preparedness Innovation (CEPI), The GAVI Alliance, Merck, and Moderna.


More than 6,000 attendees will join us for BIO Digital Week, breaking down boundaries across continents to come together to propel our industry forward.

BIO Digital will be the go-to event for global collaboration with 42% of participants from outside of the U.S.!

Couldn't make this week's webinar, What's Trending @ BIO Digital? Request the recording and watch it on your own time. Catch up on insider tips from BIO experts, including BIO Vice President of Industry Analysis, David Thomas.

110,000+ Partnering Meeting Requests

Activity in Partnering has picked up with 110,000+ meeting requests between 2,800+ companies in BIO's One-on-One Partnering system.

Don't miss out on 300+ Company Presentations in 26 therapeutic focus areas. Here's the latest stats on presenting companies – you can explore the full list on our website:


Top Officials Join Education Lineup
 
BIO Digital's robust education schedule and speaker lineup is locked in. You'll hear directly from top level executives and policy officials from the FDA, Johnson & Johnson, Merck, Moderna and more. Check out this list of movers and shakers who will present their insights and perspectives.
 
How is the biotech sector rising to meet the greatest public health challenge in a century? Kick off BIO Digital Week on June 8 with a conversation between Incoming BIO President & CEO Dr. Michelle McMurry-Heath, BIO Chairman of the Board Jeremy Levin, and outgoing Chief Executive Officer and industry champion Jim Greenwood.
 
Do you know a next-gen leader in the biotech industry? Share the BIO Digital Student Pass with them! Fun facts: nearly 20% of student participants are international and are joining us from as far away as Melbourne, Australia.

Behind the Scenes with BIO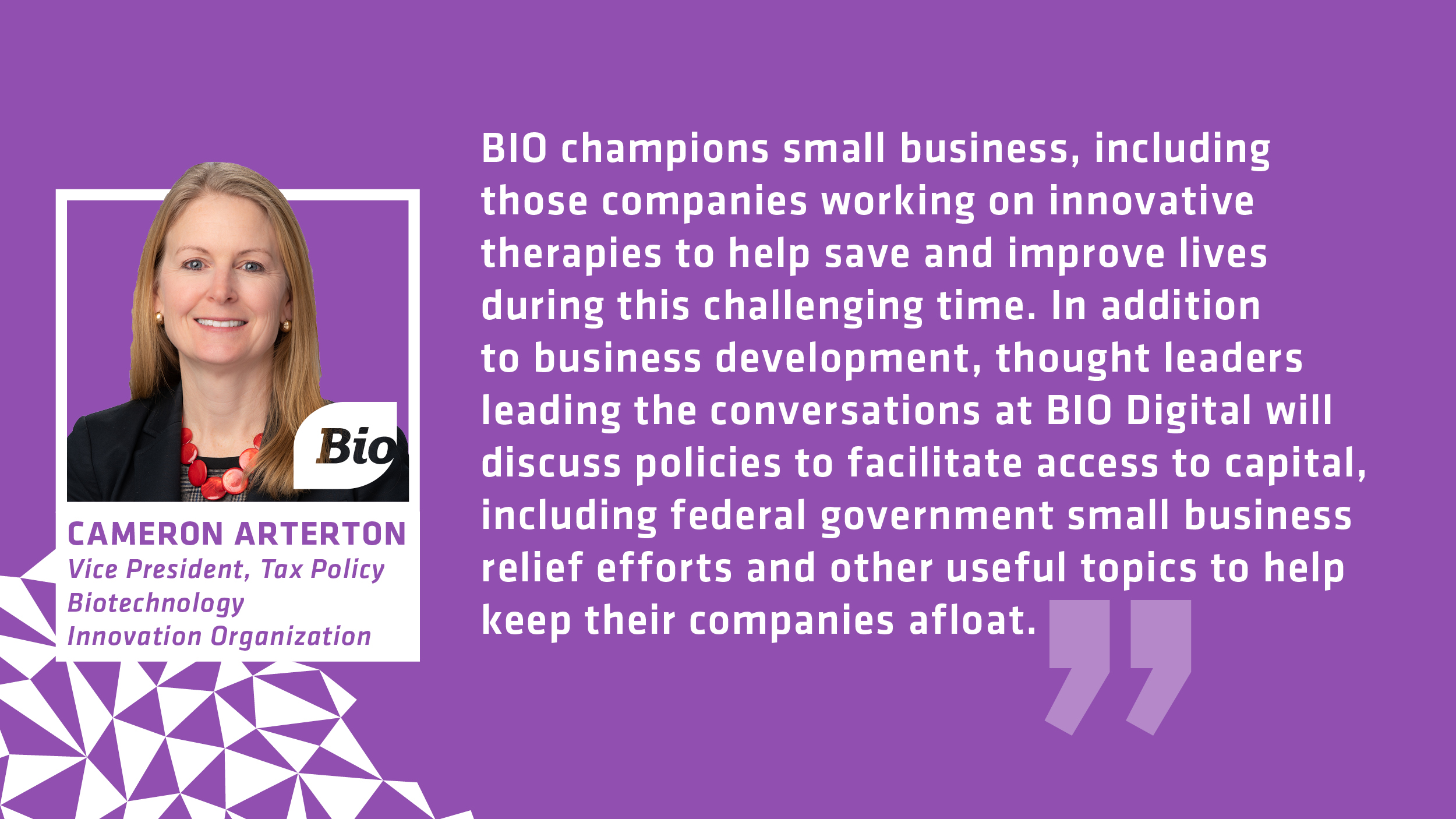 Sponsor Spotlight

See how our Double Helix sponsor Merck & Co., Inc., is participating in BIO Digital Week.

 
Beyond Imagination Video Series

Our new video series, Biotechnology: Beyond Imagination, highlights the technology and scientific advancements of leading industry companies.
Watch the latest from the clinical stage company Sutro Biopharma, working to develop the next generation of cancer therapeutics.
Catch up on the series: