Make the valuable connections you need to keep your business on track in 2020 via BIO One-on-One Partnering™ during BIO Digital. The enhanced system features allow you to schedule virtual meetings using your preferred method—whether that is a teleconference platform, video meeting service, or another medium—to maximize your business development and licensing potential. 
BIO One-on-One Partnering is officially open, so register today so that you can begin setting up your company profile, updating your calendar availability, and start requesting and accepting meetings. 
Don't miss out on 5 days of business development opportunities with biopharma investors, in-licensors and executives during this critical time.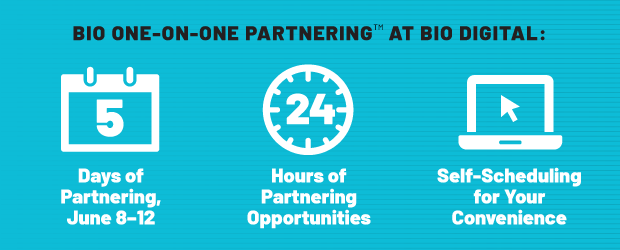 New System Tags for Coronavirus Collaboration
Did you know? BIO One-on-One Partnering has a powerful search function that makes it easy to identify potential partners. We've added new tags that will allow you to quickly identify companies working on the COVID-19 pandemic in these areas:
Biotech or pharma, therapeutic R&D
CMO, CRO
Digital health
Institute, hospital research
IT, information
Medical device or technology

Partnering Company List Now Available
Meet companies from around the world that are going above and beyond to help solve the world's most pressing issues. Use this new, filterable list to discover companies that you want to meet in the partnering system.
There are currently over 400 companies listed with new companies added every day.