Dr. Fauci and Dr. Slaoui to Headline Live COVID-19 Plenary Session
Hear from Anthony Fauci, M.D., Director of the National Institute of Allergy and Infectious Diseases, and Moncef Slaoui, Ph.D., Head of U.S. Operation Warp Speed, during a special plenary session during BIO Digital on Tuesday, June 9.
During the three-part plenary A Way Forward: Winning the War on COVID through Vaccines, Fauci and Slaoui will join global thought leaders in a discussion of the novel science of COVID-19 vaccines, the long-term solution for vaccine availability, and the complex and swift moving landscape of the global pandemic.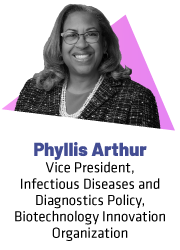 Don't miss this exciting plenary session, facilitated by Phyllis Arthur, BIO Vice President of Infectious Diseases and Diagnostics Policy. This three-part plenary session will focus on the novel science of vaccines in development as well as the challenges of clinical trials, manufacturing scale-up and global implementation.

Add this can't-miss session to your calendar today!
Part 1: Fireside Chat with Dr. Anthony Fauci, MD

11:00 AM – 11:30 AM PDT
Join us for this personal, one-on-one conversation with Dr. Fauci as he shares his insider perspective on the COVID-19 pandemic and the science emerging in response to this unprecendented crisis.
Part 2: Leveraging Platforms and Partnerships to Develop COVID-19 Vaccines in Record Time

11:30 AM – 12:30 PM PDT
As numerous vaccines move through clinical development there are important issues that need to be addressed. How will companies and partners conduct global clinical trials? What are the key scientific issues that must be addressed to vaccinate millions of people worldwide? This panel will discuss the complex path to clinical trials, the impact of the evolving science on their development and share their thoughts on how collaboration will bring life-saving vaccines to the world.
FEATURING SPEAKERS FROM:
Duke Margolis Center for Health Policy
FDA Center for Biologics Evaluation and Research
Johnson & Johnson
Novavax


Part 3: Global Solutions for Implementation: From Scale-up to Worldwide Access

12:30 PM – 1:30 PM PDT
The successful development of these vaccines is only the first part of a long-term response to the COVID-19 pandemic. In order to truly impact the pandemic, the global public health community will need to work together with public, private and NGO partners to implement the delivery of billions of doses of vaccines. To help speed eventual availability, many companies and their partners are pursing global manufacturing and distribution solutions even though these vaccines are in the early stages of development. This panel will discuss how the community can work together to ensure rapid and broad access to vaccines.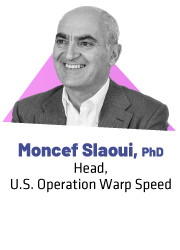 ALSO FEATURING SPEAKERS FROM:
Coalition for Epidemic Preparedness Innovation (CEPI)
The GAVI Alliance
Merck
Moderna
Can't-Miss Sessions on Monday
Meet BIO's Incoming President & CEO

Incoming BIO President & Chief Executive Officer Michelle McMurry-Heath, M.D., Ph.D., will join BIO Chairman of the Board Jeremy Levin, and outgoing Chief Executive Officer and industry champion Jim Greenwood to kick off BIO Digital Week with a conversation on how the biotech sector is rising to meet the greatest public health challenge in a century.
Followed by:
The Bioscience Economy
10:00 AM – 10:15 AM PDT
Announcing a new BIO report that showcases state-by-state information on where the bioscience economy is the strongest and where the industry is growing. Tune in for a discussion on the latest economic numbers for the industry & better understand the COVID-19 pandemic's impact.
Plenary Session: Leveraging Innovative Technology to Treat COVID-19 Patients
10:30 AM – 11:45 AM PDT
Moderated by BIO's Vice President of Infectious Diseases and Diagnostics Policy, Phyllis Arthur, this panel of top scientists and industry leaders from Takeda, Vir Biotechnology, SAB Biotherapeutics, and Regeneron will share information on the development of vital treatment options and how partnerships between industry, governments and NGOs will help speed the availability of new medicines that benefit patients.