Recap: Leveraging Innovative Technologies to Treat COVID-19 Patients
As the consequences of COVID-19 infection have been felt around the world, companies moved swiftly to test many of the products in their pipelines against SARS CoV2, the virus that causes COVID-19, as well as the complex set of complications associated with the virus. This has led to a broad array of novel approaches to treating patients infected with the virus, from antibodies that could be given as prevention or treatment to products that help reduce the impact of the cytokine storm and treat Acute Respiratory Distress Syndrome (ARDS), severe inflammation, and secondary bacterial infections.
Our panelists and industry experts discussed the development of these vital treatment options and how partnerships between industry, governments and NGOs will help speed the availability of new medicines that benefit patients.
Below is a social recap of the session: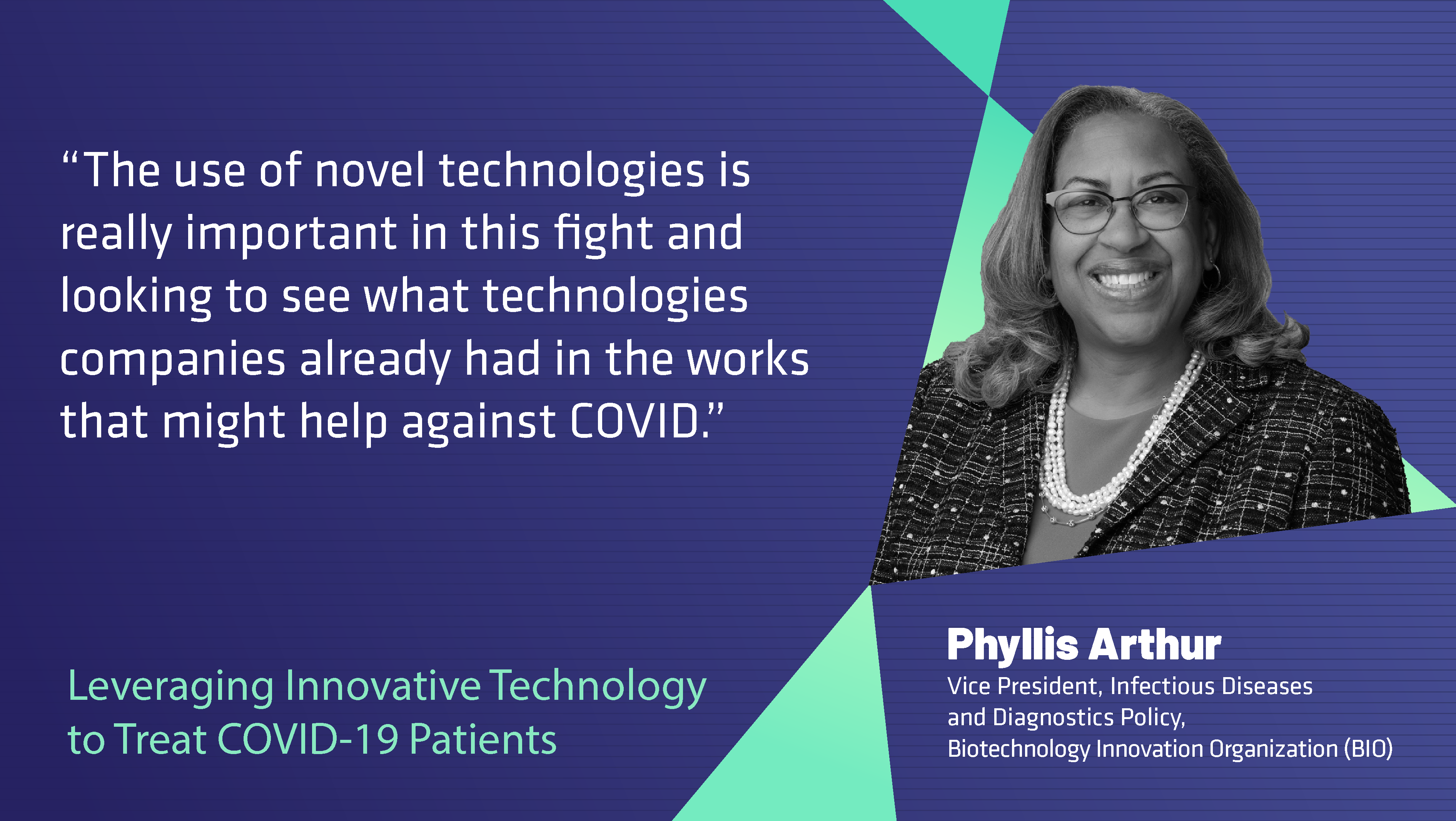 Great discussion on collaboration to fight #COVID19 with leaders from @Regeneron, @TakedaPharma, @Vir_Biotech, @SABBantibody & @athersys, moderated by @IAmBiotech's Phyllis Arthur. pic.twitter.com/4KfMWDEaJg

— BIO Convention (@BIOConvention) June 8, 2020
.@Regeneron President & Chief Scientific Officer George Yancopoulos: "We're in unprecedented times right now, and it's gratifying to see how our fellow members of the industry are stepping up in collaboration to really try to make a difference." #BIODigital pic.twitter.com/WGWPkV3Vyj

— BIO Convention (@BIOConvention) June 8, 2020
"As a small biotech its important for us that we have a network of collaborators that we're working with, and in particular being able to work with multinational companies as well." -.@SABBantibody President and Chief Scientific Officer Eddie Sullivan #BIODigital

— BIO Convention (@BIOConvention) June 8, 2020
Julie Kim, President of @TakedaPharma's Plasma-Derived Therapies Business Unit says the company has launched a cross-functional working group focused on developing a non-branded immunoglobulin plasma therapy. #BIODigital

— BIO Convention (@BIOConvention) June 8, 2020
.@IAmBiotech's Phyllis Arthur: "How are you employing AI in your R&D?"

.@Regeneron's George Yancopoulos, "If we had a centralized warehouse for all healthcare data that includes all outcome results, prescription medicines... that would be of huge value."

— BIO Convention (@BIOConvention) June 8, 2020
.@athersys' Bokkelen said this is the most vivid illustration of how capable, committed, and passionate the industry and health care workers are. "The broad commitment we all share is really remarkable and shouldn't be overlooked or forgotten." #BIODigital https://t.co/l5eZY4Fnnk

— I Am Biotech (@IAmBiotech) June 8, 2020
Julie Kim @TakedaPharma: "What I hope that we can apply and learn beyond this is once we get through to the other side of this pandemic is that we don't have short-term memory loss. … We need to collaborate and share." #BIODigital

— I Am Biotech (@IAmBiotech) June 8, 2020