Attendee Snapshot
BIO Digital brought together biotechnology and pharma leaders from around the world for five days of BIO One-on-One Partnering, education sessions covering the industry's most pressing challenges, and presentations that showcase up and coming innovations.
Check out the impressive stats and view BIO Digital Week by the Numbers for more!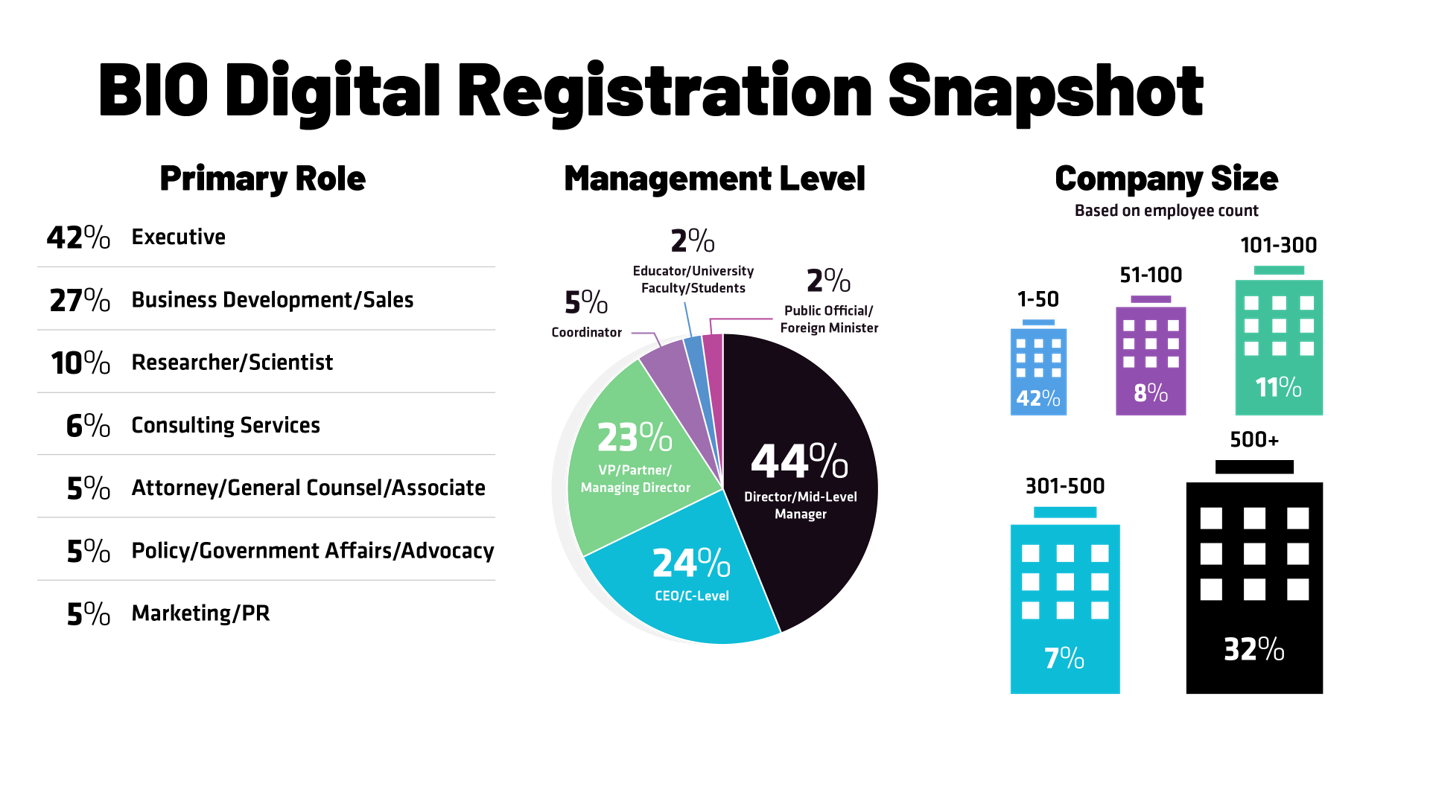 See Who Attended BIO Digital
BIO Digital will bring together biotechnology and pharma leaders from around the world. See who attended in 2020!
BIO champions those helping fight COVID-19, including our member companies focused on R&D, manufacturing, supplies and scientific information. I'm excited that BIO will convene industry leaders this June to share their strategies on working together on the shared goal of solving this global health threat.
Vice President, Vice President, Infectious Diseases and Diagnostics Policy, BIO
COUNT NIIMBL IN!!!
This will be a great opportunity to continue our presence at BIO under the current restrictions and limitations. Since we have experience with the partnering system, I'm confident we can still have productive interactions with prior contacts as well as new ones.
While in-person interactions will never fully be replaced, by providing the biotech industry a mix of top notch highly topical live and on-demand content, as well as facilitating virtual and digital interactions on a massive scale, BIO is ensuring that this key annual event will have the impact we have all come to expect, in a year like we've never experienced before.
InCarda Therapeutics Inc.
I'm all in for BIO Digital because it gives early stage biotech companies the opportunity to meet more potential partners than before. BIO's pivot is a positive for early stage companies. We all have new digital proficiency from working remotely; it will be put to good use during BIO Digital meeting business goals and developing new avenues for success.