International Delegates
Each year BIO IMPACT convenes a diverse group of international influencers who are addressing climate change, driving sustainability, strengthening the bioeconomy, and spurring international development in the agriculture and environmental space. Delegates of over 35 countries and regions participate to overcome today's global challenges—and set forth towards a sustainable future.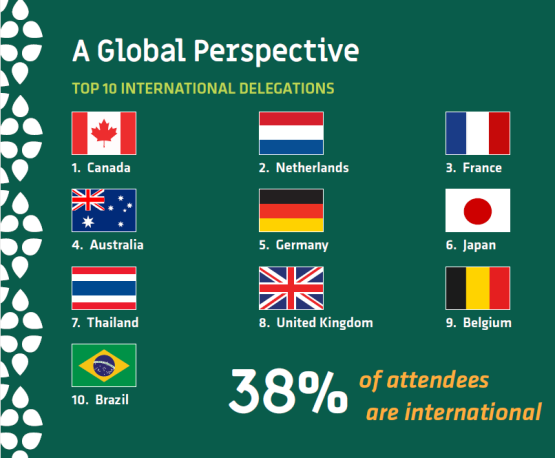 To learn more about how your country or region is participating at the event, please email international@bio.org.
Not seeing your market represented? Become an International Delegation Organizer (IDO) to showcase the agriculture and environmental breakthroughs within your country. Contact international@bio.org for more information.
Prepare to Attend
Below are some helpful resources and information that international travelers may need to attend the BIO IMPACT.
Travel to the United States
All visa applicants are advised to apply for their visa as soon as travel to the United States is contemplated, and not later than 3-4 months in advance. This means that international delegates should start the visa process in May.
Generate Your Letter of Invitation
For your convenience, you may request a personalized visa letter for the BIO IMPACT.
Please Note: Some consulates may have backlogs in scheduling visa interviews. Applicants should first contact their local consulate to find out how long the wait is for an interview. For additional visa information, contact the U.S. embassy and consulates in your country.
Please email international@bio.org with any questions.