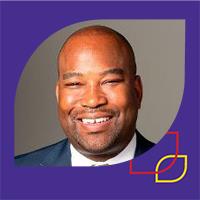 Christopher Boone
VP, GLOBAL HEAD OF HEALTH ECONOMICS & OUTCOMES RESEARCH, ABBVIE
Christopher Boone, PhD has a career-long history as a dynamic, innovative thought leader and a public voice on the power of real-world evidence, health informatics, and big data analytics and its ability to radically transform the global health care system into a learning health system.

Chris currently serves as the Vice President, Global Head of Health Economics and Outcomes Research at AbbVie. He is also an adjunct assistant professor of health administration at the New York University's Robert F. Wagner Graduate School of Public Service. Prior to AbbVie, he served in two different roles at Pfizer: the Vice President and Head of Global Medical Epidemiology and Big Data Analysis, and the Vice President and Global Head of Real-World Data and Analytics.

Chris has been recognized as a Top Diverse Leaders by the Illinois Diversity and Leadership Council (2021), a Global Top 100 Innovator in Data & Analytics (2020, 2019), an Emerging Pharma Leader by Pharmaceutical Executive (2018), and a Top 40 Under 40 Leader in Minority Health (2017) by the National Minority Quality Forum.

Boone holds, or has held, appointments to some of the most influential national committees focused on health data and patient centricity, including the Board of Directors for the Stewards of Change Institute, the Executive Board of Directors for the National Patient Advocate Foundation, the U.S. Department of Health and Human Services Federal Health IT Policy Committee, the inaugural advisory group for American Society of Clinical Oncologists' CancerLinQ, and the Board of Directors for SHARE for Cures.

Chris earned a B.S. from the University of Tulsa, a M.H.A. from the University of Texas at Arlington, a Ph.D. from the University of Texas at Dallas, and two executive certificates from the Harvard Kennedy School. He is a Fellow of the American College of Health Executives and a Fellow of the Healthcare Information Management & Systems Society.
Improvements in care benefit patients but make it harder to demonstrate survival gains in…