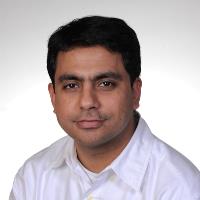 Dheeraj Talreja
EXECUTIVE DIRECTOR, GENENTECH, A MEMBER OF THE ROCHE GROUP
South San Francisco, California, United States
Dheeraj Talreja is currently the Executive Marketing Director on Alzheimer's Program at Genentech, a member of the Roche Group. In his role, Dheeraj is accountable for leading the team that delivers Alzheimer's marketing across all customer groups (patients and their caregivers, local advocacy, healthcare providers, cross-disciplinary thought leaders, and payers). In addition, Dheeraj is responsible for working with cross-functional partners to listen and understand the needs of the AD community, develop launch strategies and comprehensive execution plans.

Before joining the Alzheimer's program, Dheeraj successfully launched two of our recent Rare Disease molecules - Evrysdi in Spinal Muscular Atrophy (SMA), a neurological rare disease and HEMLIBRA for hemophilia A.

Dheeraj has been with Genentech for over 17 years and has worked in a variety of roles across Therapeutic Areas and Functions - Sales Operations, Forecasting & Business Analysis, Market Planning and leading Portfolio Planning and Insights team.

Prior to Genentech, Dheeraj was at Boehringer Ingelheim where he worked in Sales Force Optimization and worked on the launch of Spiriva in COPD.

Dheeraj holds a Bachelor's Degree in Chemical Engineering from the University of Mumbai, India and a Master of Science in Industrial Engineering from the University of Buffalo, SUNY.
10:15 AM - 11:15 AM (PDT)
During this session, we will provide an overview of the evolving science and AD DMT landscape,…