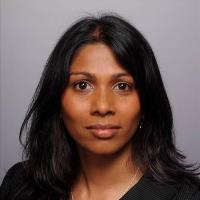 Kathy Fernando
VICE PRESIDENT AND HEAD OF WORLDWIDE RESEARCH, DEVELOPMENT AND MEDICAL OPERATIONS AND HEAD OF MRNA SCIENTIFIC PLANNING AND OPERATIONS, PFIZER INC.
New York, New York, United States
Kathy Fernando is a Vice President and Head of Worldwide Research, Development and Medical Operations and Head of mRNA Scientific Planning and Operations at Pfizer. Prior to joining Pfizer, she worked in management consulting, most recently at Monitor Deloitte.
Kathy has strong strategy and operations expertise across the R&D and commercial space and has navigated complex strategic challenges across 10+ products launches. During her time in consulting, Kathy helped address diverse business needs for pharmaceutical and biotech companies in the US and EU markets in areas such as therapeutic area strategy, product launch and lifecycle management. At Pfizer, she works on strategic initiatives to identify and evaluate new scientific areas of focus, increase the value of the R&D portfolio and enhance R&D productivity. In addition, Kathy leads efforts to develop an ambitious and holistic scientific strategy for mRNA across therapeutic areas as well as a well-orchestrated plan for execution.
Kathy has a Ph.D. in Immunology from the University of Pennsylvania. Her Ph.D. thesis focused on mRNA vaccines and HIV vaccine development. She has a bachelor's degree in biotechnology from the Indian Institute of Technology (I.I.T) in Kharagpur, India. She lives in New York City with her husband and two young boys.
With the delivery of mRNA-based COVID-19 vaccines, mRNA earned its rightful place among the leading…