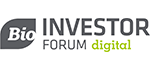 Prepare For BIO Investor Forum Digital: What You Need to Know
To help you benefit from the many business development, educational and networking opportunities during BIO Investor Forum Digital, kicking off Tuesday, October 13, please find the important details below to ensure you have a productive conference experience.
Accept Your Invitation to the Education Platform
Invitations to log in have been sent to all registered attendees!
Check your inbox for an email from register@bio.org with the subject line BIO Investor Forum Digital Education Platform - Activate Your Profile Today. This email will include a link to accept your invitation to the education platform*. You must set up your profile in the platform to attend and watch sessions.
Log in early to familiarize yourself with the platform and watch 130+ Company Presentations available on-demand now! There is still time to request partnering meetings with these companies over the weekend before the event starts on Tuesday.
*Please Note: This is a different login from BIO One-on-One Partnering™.
Your Schedule and Agenda
Plan in Advance: Managing your partnering meetings, session schedule, and personal time is going to be critical, and we respect the time commitment you are making to join us. Use the powerful session search and filter functions to find and add relevant sessions to your agenda. View the full educational program.
Three places to manage your calendar:
Hint: All options below include features that allow you to add sessions to your personal Outlook, Gmail, or other calendar of choice to ensure you get reminders.
BIO One-on-One Partnering™ system: Manage partnering meetings and sessions in one calendar. Scheduled partnering meetings automatically push to your Outlook calendar, giving you pre-meeting reminders. To see your added sessions with direct access links on your personal calendaring app, export your partnering calendar - just make sure you activate your Education Platform profile first.
BIO Investor Forum Education Platform: Once you accept your invitation and log in to the Education Platform, you can add sessions to a calendar that you want to watch. Once you've added a session, navigate to "My Schedule" where you will find options to export to your personal calendar.
BIO Investor Forum Digital Website: Use the "add to calendar" function from the session pages on our website to incorporate the sessions into your personal calendar.
Educational Programming
Don't Miss These Interactive Headliner Sessions: Get the pulse on biotech policy and investment trends, learn about therapeutic breakthroughs and hear from visionaries working to tackle today's challenges. Note all times are in Pacific Daylight Time (PDT).
130 + On-Demand Company Presentations: Start searching the library of Company Presentations over the weekend, and request meetings with them in BIO One-on-One Partnering next week!
Extended Access to Content: You will have access to the education platform and sessions until November 11, 2020.
Networking
Participate in the new Topic-Driven Networking Series: Break up your busy partnering and education schedule and meet attendees from around the world! Each hour-long event will focus on a specific therapeutic area, kicking off with one-minute introductions from Company Presenters in that category. Attendees can then join presenters at specified tables to video-chat in small groups, pose questions, discuss, and make new connections.
Community Networking Event (sponsored by Chubb): Join us on Wednesday, October 14 from 5:00 - 6:00 pm PDT to continue discussions from educational sessions and casually network with attendees following the final education session!
Access these networking opportunities via the "Networking Pavilion" in the BIO Education Platform. Simply click the link to join, complete your profile and enter the room to start networking! Here is a Quick Start Guide to Networking.
Customer Support
Need assistance? The BIO Customer Service Team is here to ensure a great experience during BIO Investor Forum Digital. Here are the ways you can get support:
Before the event, please contact:
BIO Customer Service team at register@bio.org with questions about registration or to access the education platform
BIO One-on-One Partnering team at biopartnering@bio.org with questions about partnering or meeting scheduling
BIO Education Team at present@bio.org with questions from speakers or presenters.
During the event, a live chat support will be available within the education platform:
October 13: 8:00 AM PDT - 4:00 PM PDT
October 14: 8:00 AM PDT - 4:00 PM PDT
Use #BIFDigital to join the conversation!