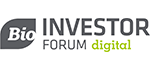 For 2020, BIO Investor Forum will transition to a comprehensive three-day virtual education and partnering event, October 13-15. Now more than ever, we need to support biotech innovators, helping them find investors and strategic partners to advance their company to the next stage in their business life cycle.
3-Day BIO Investor Forum Digital will feature:
Three days of enhanced BIO One-on-One Partnering™, including a new, flexible meeting scheduling capability for business development networking.
Two days of interactive educational sessions, with speaker Q&A, focused on the most pressing industry topics including COVID-19, Infectious Diseases/ Vaccines, Oncology, Business Development, Digital Health, and more.
A library of on-demand company presentations, showcasing a company's pipeline, R&D activities, and fundraising goals.
The BIO SPARK Showcase will spotlight early stage assets from the university setting.
Enhanced networking featuring informal small group and face-to-face video interactivity.
Access to an increased global investor audience.
Registration pricing begins at just $540 for BIO Members.