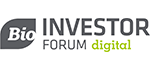 Here are all of the ways your company can get involved in the 2020 BIO Investor Forum. Most opportunities below include name and/or logo recognition on the website, and other exposure in conjunction with program promotion.
Click through to learn more about each opportunity.
Attract Investors and Partners
Tell your company's story and attract the partners you need to succeed in developing innovations. Company presenters tend to receive twice as many BIO One-on-One Partnering™ requests than non-presenters, and schedule twice as many meetings.
No matter your business goal--gaining brand exposure, building goodwill, or connecting and engaging with a global audience--BIO has the sponsorship opportunity that meets your needs and budget.
Ten biotechs will be nominated in each of the three categories: Public Therapeutic Biotech, Private Therapeutic Biotech, Diagnostics and Beyond for a chance to win a complimentary Company Presentation and Registration at the BIO Investor Forum.