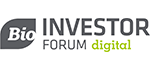 CANCELLATIONS
Cancellation requests must be submitted in writing on or before September 22, 2020 to receive a partial refund.
A $200 administrative fee will be deducted from all cancellation refunds.
Approved refunds will be processed after the conference. BIO regrets that refunds will not be given for no-shows / non-participants.
Cancellation requests received after September 22, 2020 will not be honored. Email cancellations requests to register@bio.org.
SUBSTITUTIONS
Any substitution needs to be requested to register@bio.org by Tuesday, September 29, 2020.
Due to the digital nature of the program, after September 29, 2020, we will not accept substitutions.
Only one substitution is permitted per original registrant.
MEMBERSHIP STATUS
The Biotechnology Innovation Organization (BIO) is the world's largest trade association representing biotechnology companies, academic institutions, state biotechnology centers and related organizations across the United States and in more than 30 countries. BIO members receive discounted registration fees for all BIO events. Become a member by October 15 and save! Click here for more information on BIO membership and apply to join.
For the purposes of registration for any BIO event, conference or meeting, the classification of a registrant as a research and development company, an industry service provider, an academic & technology licensing officer or a qualifying investor is subject to review by BIO. In its sole discretion, BIO reserves the right to make the determination of the proper classification of a registrant. Depending on this classification, an additional registration fee maybe required. BIO reserves the right to publish materials and restrict conference and/or partnering system access consistent with these determinations.
---
CONTACT BIO REGISTRATION
Email: register@bio.org

Please note that due to the current COVID-19 world situation, it is best to begin your inquiry through email. This is the most effective way to reach our team at this time.

Telephone: +1 (202) 962-6655 - Customer Service Hours: 9:00 am - 4:00 pm Eastern Time, Monday-Friday.