Topic-Driven Networking Series: Orphan/Rare Diseases
9:00 AM - 10:00 AM (PDT), Tuesday, October 13, 2020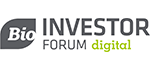 This networking hour started with a video presentation introducing the participating companies, followed by Q&A among presenters and audiences including investors and attendees.

You can see the video here. To find a company's full presentation video, search their name in the session filter and then click On Demand.

Presenting companies featured in this event:
- Acer Therapeutics
- Chemomab
- Igia Pharmaceuticals
- Microbion Corporation
- Oncoheroes Biosciences Inc.
- Soligenix, Inc.