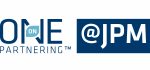 Elevate Your Brand
No matter your business goal--gaining brand exposure, building goodwill, or connecting and engaging with a global audience--BIO has the sponsorship opportunity that meets your needs and budget.
Interested in Learning More?
Request a copy of the BIO Partnering at JPM Sponsorship Prospectus for a full list of available inventory including benefits and pricing.
Contact the Sales team at +1.202.312.9264 or sponsor@bio.org