Join Us for 2022 BIO Partnering at JPM
BIO One-on-One Partnering unifies access to partnering for the life science industry. You can efficiently arrange meetings with biotechs, investors, in-licensors, medical device and medtech companies, and other life science leaders, regardless of whether you are registered for a specific event during JPM Week.
New for 2022, BIO One-on-One Partnering will allow you to schedule meetings using automatically provided BIO Zoom links or in your own physical space. Whether you are attending JPM Week virtually, in person, or both, you can use BIO One-on-One Partnering to simplify your experience.
Members Save on Registration
BIO Members Save 50% off registration fees!
Member: $495
Non-Member: $990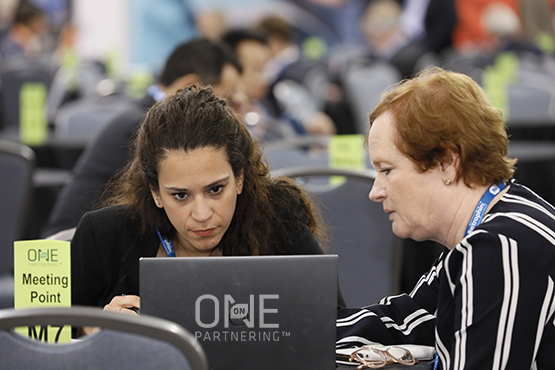 Critical Dealmaking: Partnering Recap
2021 BIO Partnering @ JPM Week featured:
10,420 scheduled meetings
2,390 companies
4,123 delegates from 44 countries
Leveraging JPM Week to Achieve Business Development Goals
Thursday, December 2, 1:00 - 2:00 PM ET (Video Playback Link Below)
Business development teams are asking BIO what to expect for the JPM Week experience in January, while pandemic restrictions are loosening but international travel remains complicated. BIO has assembled a group of experienced leaders to help audiences benchmark their own JPM Week planning. The panelists will explain how their organizations are allocating business development team resources to maximize value from the in-person and virtual options related to this 2022 transitional year for the San Francisco event. The webinar will also detail how BIO's One-on-One Partnering™ system provides centralized access to scheduling support with flexibility for any in-person meeting location or videoconference option a team might prefer. Join this webinar for live Q&A with our panelists to help you make the most of your JPM Week opportunities.
Moderator:
Bernard V. Fallon, Managing Director, Industry Research, Investor Outreach, and Education, Biotechnology Innovation Organization (BIO)
Panelists:
Kleem Chaudhary, PhD, Chief Business Officer, Checkmate Pharmaceuticals
Alexis Ji, PhD, Partner, Illumina Ventures
Philippe Lopes-Fernandes, Executive Vice President, Chief Business Officer, Ipsen
Reza Mazhari, PhD, Head of Search and Evaluation, North America, Business Development and Licensing, Novartis Institutes for BioMedical Research (NIBR)
Joseph J. Sarret, MD, JD, Chief Executive Officer and Director, CohBar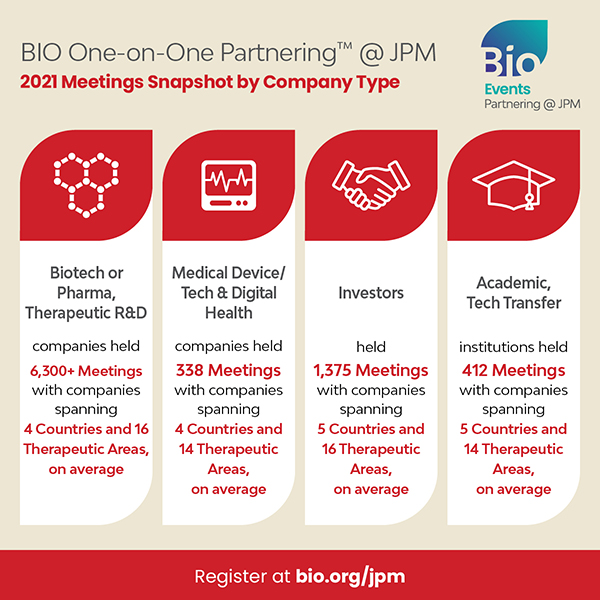 Subscribe to receive email updates about 2022 BIO Partnering @ JPM Week, including virtual partnering opportunities during JPM Week 2022.
Connecting R&D Innovators with Investment and Collaboration Partners
Disclaimer: BIO and the BIO One-on-One Partnering system are not affiliated with J.P. Morgan, the J.P. Morgan Healthcare Conference, or any JPM Week events unless otherwise specified.