Company Presentations
Company Presentations are the perfect way to increase visibility and attract more partners at BIO Digital.
Pitch your company's story, pipelines, and objectives to a global audience of business development executives, investors, research analysts, policy makers and media, and get more activity in BIO One-on-One Partnering™. New this year: presentations will be available before, during, and after BIO Digital, maximizing your company's exposure over a greater period of time!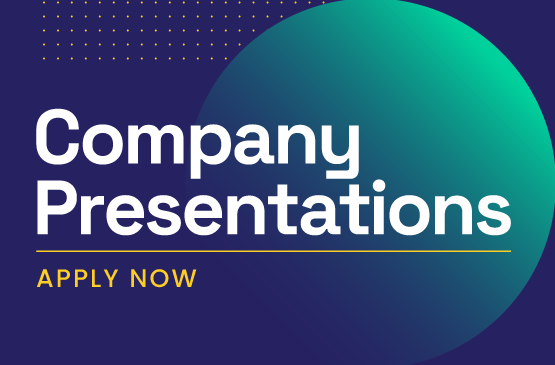 Applications Have Now Closed
Company Presentation application submission closed on May 26. If you have any questions, please email elongvall@bio.org.
Featured Therapeutic Areas
Company Presentations are categorized by the following categories:
Animal Health Products
Cardiovascular
CNS/Neurological
Dermatology
Diagnostics
Digital Health
Food & Agriculture
Gastrointestinal
Gene/Cell Therapy
Immunology
Industrial & Environmental

Infectious Diseases

Inflammation

Medical Devices

Metabolic Diseases

Multiline Global Biopharma

Multiple Therapeutics

Non-Profit/Patient Advocacy Group
Oncology
Ophthalmology

Orphan/Rare Diseases

Pain Management

Platform for Therapeutics

Regenerative Medicine

Reproductive/Sexual Health

Respiratory

Tools/Drug Development Support Tech
Best Practices for Delivering a Company Presentation
BIO has worked with Donna LaVoie of LaVoieHealthScience Stategic Communications to develop three best-practice videos to help optimize your Company Presentation at the next BIO event.
BIO Members Enjoy Exclusive Registration Discounts + Perks
BIO members benefit year-round from access to policy updates, discounts at BIO events, and savings on essential products and services through BIO Business Solutions. Join BIO today to become a part of our global community of innovators and to be a voice of science and for science.