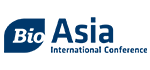 For companies headquartered in China, Hong Kong, India, Indonesia, Japan, Malaysia, Singapore, South Korea, Taiwan, or Thailand only. For North American and European rates, please click here.
Company Presentation + Registration
For an additional fee, companies can give a 13 minute presentation and discuss their pipeline, R&D activities and future goals to this exclusive audience. 
Please note: you must apply to present and be approved before you can register for a company presentation. 
*Approval and a registration code is required. See Registration Classifications for details and contact information.