This week, we've added attendees including investors from France, Belgium, Japan, Germany, Portugal, Italy, Denmark, Canada and we have great representation from all over the US! Scroll down to view the titles of the people you can meet during BIO IMPACT Digital, September 21-22, BIO's premier Ag & Environment Event. We also have exciting announcements about industry awards and new opportunities to get involved in the virtual world!
Below are important action items and deadlines, with a focus on BIO Member savings, opportunities for start-ups, and tips for becoming a BIO One-on-One Partnering™ pro!


Can't Miss Interactive Education
What's trending? BIO IMPACT Digital brings insights and innovation from the best in the field. Our interactive sessions with prominent speakers will explore topics and trends at the heart of technology, entrepreneurialism, agriculture and environmental biotechnology. View our confirmed sessions here.
Explore education early - add these critical sessions to your calendar:
Advancing Animal Innovations Through the Lens of "One Health": The Covid-19 crisis highlights the intersection of human, animal, and environmental health and a need for multifaceted strategies to confront zoonotic disease outbreaks, like the coronavirus. This panel will explore the value of animal biotech innovation through the lens of One Health and offer concrete policy concepts that our government can implement immediately to drive investment and innovation.
Clean Fuels: Moving the Industry Forward: This session will highlight recent updates and changes to sustainable fuel policies across the western hemisphere. California is now is 'cruise control' after their most recent rulemaking, the EU kicks off their second 10-year policy, Brazil includes a low carbon fuel standard in the second largest biofuel market in the world, and the U.S. EPA is thinking about biofuel policy as 2022 approaches. Are existing policies positioning sustainable fuels market growth for the future?
KEYNOTE: USDA Leadership in Driving Innovation in Agriculture: The U.S. Department of Agriculture (USDA) has led the way in growing America's bioeconomy and championing innovation throughout agriculture. With USDA having set its sights on increasing U.S. agricultural productivity by 40 percent while cutting its environmental footprint in half by 2050, developing biology-based technologies to enhance cultivation and food production and produce sustainable fuels, renewable chemicals, and biobased products will be necessary to achieving this goal.
Meet Our Newest Sponsors
We are receiving great support from our sponsors - thank you to our newest sponsors this week: America's Cultivation Corridor, Iowa Biotechnology Association (IowaBio), Nebraska Department of Economic Development, and Rosalind Franklin Society.

Become a Virtual Partnering Pro
New to BIO One-On-One Partnering™? We're making it easier than ever to connect with key partners from around the world, from your desk! Register for early access to secure meetings with prospective biotech investors and senior business development executives before the system opens in early August.
Here are a few things to look forward to:

Access to a robust Company Directory
Flexible, self-scheduling using your own virtual meeting space
24-hour meeting timeslots for maximum flexibility across time zones
150 outstanding outgoing meeting requests included for each company profile

Become a Partnering Pro: Explore the one-stop-shop for all things BIO One-on-One Partnering including user guides, webinars, whitepapers, videos, and more.
Who Will You Meet During BIO IMPACT Digital?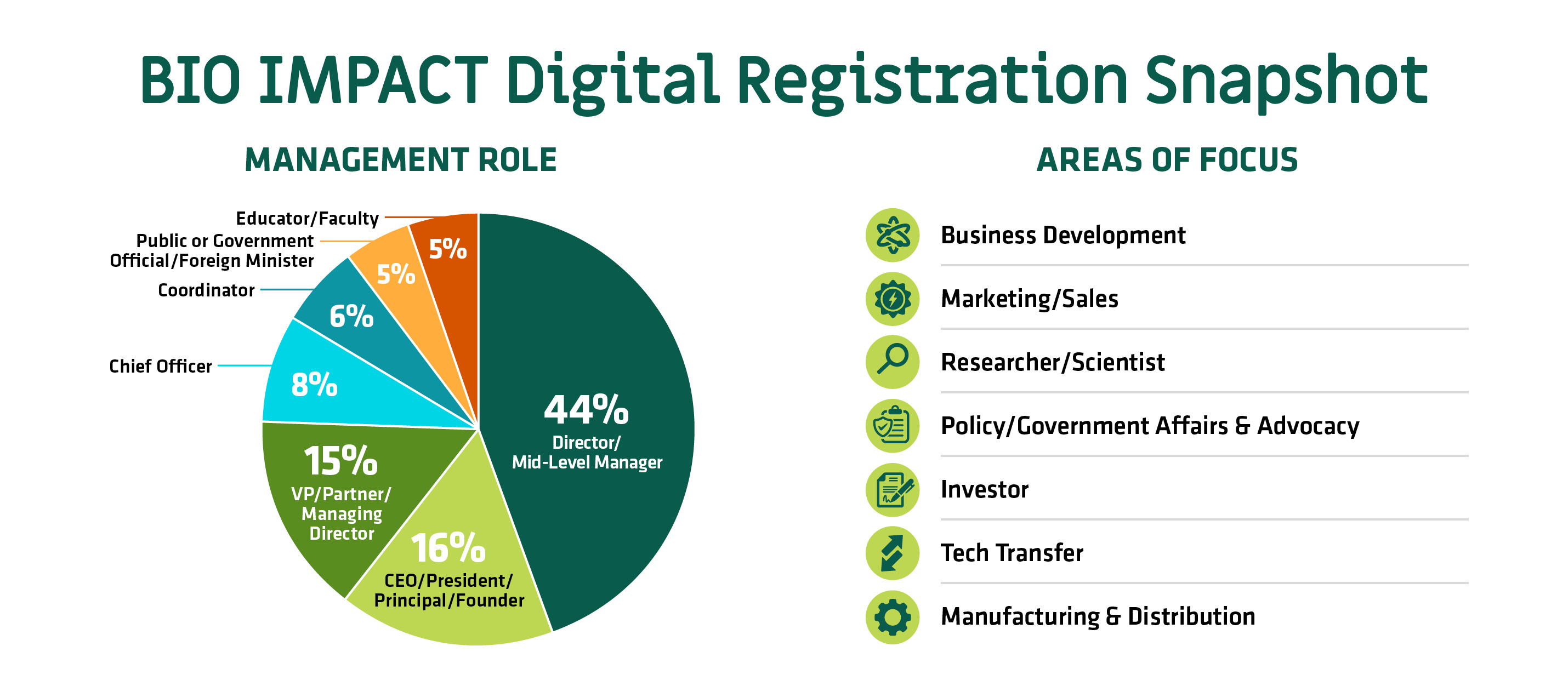 Join 1,000 diverse global biotech thought leaders, policy-makers, scientists, investors, CEO's, business development executives, solution providers and academics from across sectors.

Behind the Scenes with BIO: What's Happening This Week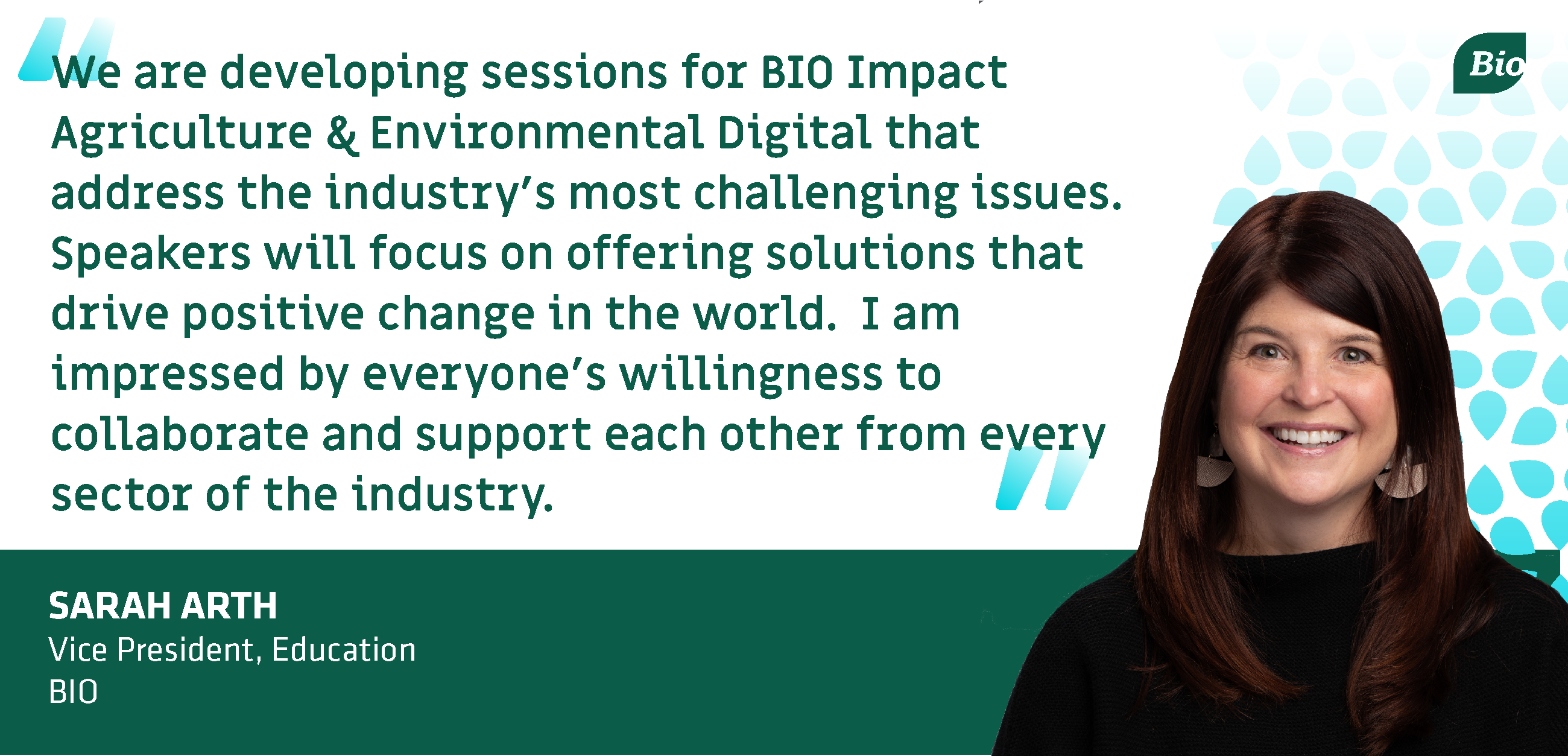 Have a question about BIO IMPACT Digital? Please review our Frequently Asked Questions that address many of our attendees and stakeholders common questions.