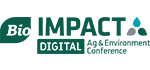 Cast Your Vote for the Buzz of BIO by September 3!
Be a part of the exciting Buzz of BIO contest that recognizes U.S. based companies making an impact on our world, developing game-changing products, technologies and solutions solving societal challenges.
Five finalists were selected to advance to the voting round - cast your vote by September 3 to select one winner to be recognized as the Buzz of BIO!
Now is your chance to help one of the Buzz of BIO nominees win a complimentary registration to BIO's Premier Ag & Environment Conference.
More About Company Presentations 
Increase visibility for your company, attract more partners and gain exposure in BIO One-on-One Partnering™. Pitch your company's story, pipelines, and objectives to a global audience.  Apply Now