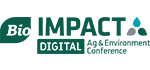 Position yourself for success at BIO IMPACT Ag & Environment Digital Conference this September 21-22! Join our upcoming webinar to learn about the new BIO One-On-One Partnering™ enhancements that will make your virtual partnering experience effective and flexible! The BIO team will share the latest updates on who you can meet at the conference, our timely and critical education sessions, speaker preview, and tips for navigating the interactive education platform.
Who Will You Meet at BIO IMPACT Digital?
BIO IMPACT is an unmatched platform to share advances in biotechnology bringing solutions to challenges facing agriculture and our environment. Join innovators, influencers and policy-makers from across sectors working to build the future of the bioeconomy.
Download the latest attendee list for a look at the companies, industries and countries that will be attending!