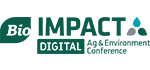 Join Industry Icons & Forge Pathways to Leadership at BIO's Premier Ag & Environment Conference! 
Now is a more important time than ever to make a difference in the world of biotech. Join us for BIO's premiere ag & environment event, BIO IMPACT Digital, September 21-22, 2020. This is your chance to join global thought leaders, policy-makers, scientists, investors, CEOs, business development executives and academics across all sectors as we aim to overcome today's global challenges facing agriculture and the environment.
The student pass program provides free Education Access ($250 value) to students and young professionals to foster engagement with the agriculture and environment industry early in their career and provide pathways to leadership - see the list of who you might meet.
Want to apply? It's simple! Visit bio.org/impact/student-pass and fill out the form! Please note: you must be currently enrolled as a student full-time to take advantage of this offer.
The BIO IMPACT Digital Student Pass Includes:
Pathways to Leadership: Tips for Building a Meaningful Career in the Bioeconomy - Explore the habits, knowledge, and skills that are specific to the bioeconomy and fundamental to forging your own path in a competitive job market - hosted in partnership with the Consortium for Advanced Bioeconomy Leadership Education (CABLE)
Full Access to Interactive Education Program - Watch and chat live during interactive sessions focused on today's most pressing industry topics
Dozens of On-Demand Company Presentations - Hear from leading companies about pipeline, R&D & business goals
Start-Up Stadium Pitches - Meet the entrepreneurs and their start-ups keeping the bioeconomy vibrant
Bioeconomy Site Tours - Take a tour of North Carolina's expansive bioeconomy from your home
Virtual Networking Opportunities - Connect with leaders from across the industry via direct online chat and video networking
We are excited to offer you this unique opportunity to start your semester strong with critical education outside the classroom and professional development designed to help you build a meaningful career in the biotechnology industry.