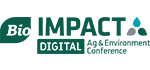 Who Will You Meet at BIO IMPACT Digital?
BIO IMPACT is an unmatched platform to share advances in biotechnology bringing solutions to challenges facing agriculture and our environment. Join innovators, influencers and policy-makers from across sectors working to build the future of the bioeconomy.
Fill out the form to download the latest attendee list for a look at the companies, industries and countries that will be attending!

DISCLAIMER: Please note that the Sample Attendee List does not contain contact information. BIO does not share attendee contact information with third parties so our registration lists cannot be purchased. As such, beware of any company that promises to sell you an attendee list. Emails from BIO will come from the domain "@bio.org" – if someone contacts you from an unfamiliar domain, please forward the email to bioimpact@bio.org to verify the source.