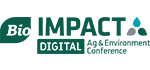 Below are some frequently asked questions to help you navigate BIO IMPACT. If you need additional assistance, please contact our registration team at register@bio.org.
Expand All
What will be the new format of the 2020 BIO IMPACT?
We are currently planning a virtual format that will enable us to deliver two days of BIO One-on-One Partnering with an expanded 24-hour global time zone approach for business development networking along with expert-level educational content focused on the most pressing industry topics in food and farm innovation, sustainable fuels and biobased manufacturing. There will be a variety of live and on-demand sessions, as well as company presentations, with additional scheduling details that BIO will post in the next few weeks.
What type of content can I expect to see?
Interactive and on demand sessions spread across two days covering a mix of food and farm innovation, sustainable fuels and biobased manufacturing.

Should I still prepare my educational presentation?
Yes, consider if your original topic idea will still be relevant to a virtual session in September. The BIO Programs team will be contacting those session organizers and speakers with accepted sessions as BIO continues to explore options for a virtual education event and will be in contact with those session organizers and speakers with more details as soon as they are available.
Will the confidentiality policy stay in place now that the in-person meeting is cancelled?
BIO's Previous Presentation/Publication and Confidentiality Policies will remain in effect since abstracts will still be presented. The convention itself will be open to qualified media with "on the record" educational panel sessions, however.
How do I sign up for a session?
All available sessions and educational events will be available to all registrants. You will not need to sign up specifically for a session in order to attend. For a live-streamed event, RSVPs may be requested.
Are sessions live or recorded?
We are planning a mix of live and pre-recorded content as well as set of tools for interacting with speakers for Q&A, even for pre-recorded content.
Am I able to ask a speaker or presenter questions?
Yes, BIO is reviewing the best functionality to enable such Q&A interactions.
Who should I contact if I have questions? 
If you are a member of the media, please contact tbrady@bio.org.
For company presentation questions, please contact present@bio.org.
For educational sessions, please contact program@bio.org.
For all other questions, please contact register@bio.org and we will do our best to assist you directly or team members will connect you with the correct BIO staff associate.
I'm a sponsor. How does this affect me?
As a BIO Sponsor, we want to present you with new visibility opportunities on the upcoming BIO IMPACT Digital platform. Your BIO Account Manager will connect with you to discuss the options for pivoting your investment into available thought leadership, branding, advertising options, in addition to converting your registrations to BIO IMPACT Digital.

In the interim, if you have any questions, please feel free to reach out to sponsor@bio.org and we will be in touch.
What is included in the two-day regisgtration?
Access to the enhanced BIO One-on-One Partnering System with new, flexible meeting scheduling capability for business development networking.
Access to a new education platform featuring plenary sessions, dozens of expert-level education sessions focused on the most pressing industry topics in food and farm innovation, sustainable fuels and biobased manufacturing. Programming details will be announced in July.
On-Demand Company and Technical Presentations that showcase companies' pipelines and R&D activities, plus Start-Up Stadium pitches.
Virtual BIO One-on-One Partnering
What is Virtual Partnering?
Virtual Partnering is the BIO One-on-One Partnering system with enhanced features that allow you to arrange partnering meetings virtually. With Virtual Partnering, you can self-schedule meetings during 2 full days of partnering from September 21-22, 2020, view your partnering calendar in your own time zone, and input the meeting location of your choice, with the flexibility to choose whatever virtual meeting option you prefer.
How do I register for Virtual Partnering?
Access to BIO One-on-One Partnering is included with all registrations for BIO IMPACT Digital. The BIO One-on-One Partnering™ system will open in late July. After the system opens, you can expect to receive your partnering login information within 1-2 business days of your completed registration. Be sure to add noreply.partnering@bio.org to your safe senders list to receive your login credentials.
Who can I expect to meet in Virtual Partnering?
You can expect to find leaders in agriculture and environmental biotech from hundreds of leading companies around the globe participating in Virtual Partnering.
I need help with Virtual Partnering. Who can I reach out to?
How does partnering work?
The BIO One-On-One Partnering™ system works on a company to company basis. Delegates' accounts will be placed into a company profile with their colleagues as they register for the conference. After filling out their profiles and their calendar availability, delegates send meeting requests to other companies of interest, and accept incoming meeting requests as appropriate.
Once a meeting request is accepted, either company can schedule the meeting via their Message Center – just click the "Schedule" button on the meeting request. You can input any virtual meeting location you prefer, such as a conference call line, video platform, or another method. Be sure to include any additional dial-in numbers or access codes in the Location Description field.
Accepted meeting requests with no mutual availability will show a red "No mutual availability" indicator.
We have multiple resources for your assistance. Please see them below:
Quick Start Guide PDF | Full System Tutorial PDF | Video Tutorials
Does the system provide a virtual meeting service for me to use?
The partnering system does not provide a teleconference of web-conferencing service. Virtual Partnering at BIO IMPACT Digital provides you the flexibility to use the meeting solution of your choice—whether a video or audio conferencing system, teleconference dial-in number, or any other preferred method—and enter those location details directly in the partnering system.
How many meeting requests can I send for BIO IMPACT Digital?
Each company profile is allowed 150 outstanding outgoing meeting requests.
I have completed my registration for BIO IMPACT Digital - when will I get access to the BIO One-on-One Partnering system for the event?
Please allow 1 to 2 US business days following your completed registration to receive access to Virtual Partnering for BIO IMPACT Digital. You can expect a confirmation email from the BIO Partnering Team with your login information at that time, so please add biopartnering@bio.org to your safe senders list.
As your login credentials will come from biopartnering@bio.org, please add this address to your safe senders list.
For security purposes, a delegate's email address must correlate to his or her identity and registered company in order to access the system. To further ensure security, the following Internet browsers are supported: Google Chrome (v. 42.0 and above), Internet Explorer (v. 11.0 and above), Mozilla Firefox (v. 37.0 and above) and Safari for Mac (v. 8.0 and above).
Questions about Partnering? Contact the BIO Partnering Team at biopartnering@bio.org or via phone at (866) 356-5155 or +1 (202) 962-6666 (international calls).
Do I need to register to attend BIO IMPACT Digital before applying?
You can apply to present before you register for the conference, or vice-versa.
How can company presentations be viewed?
Presentations will be viewed on demand on the BIO IMPACT Digital event page.
Who can apply to present a company presentation?
Companies of all sizes have seen success with this program. We encourage executives, academic researchers, international groups and industry leaders throughout the supply chain to apply.
Are there any additional fees associated with presenting?
Yes, you can add the presentation fee to your registration. Members will pay a $100 fee while non-members will pay an additional $200 fee.
What are the benefits of presenting?
This is a great way to reach out to a global audience to increase your visibility in the biotech world, as well as create more partnering meetings with investors and executives. Presenting companies tend to receive more than twice the amount of BIO Partnering meeting requests than non-presenting companies, and end up scheduling close to twice as many meetings!
Who can I contact for more information?
Please contact our customer support team with any questions regarding your company presentation at bioimpact@bio.org.