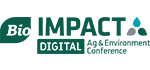 Investor Registration Information
Investors eligible for complimentary registration are those primarily able to demonstrate prior institutional investments of at least $5 million in biotech or with assets under management of at least $25 million, or FINRA-accredited research analysts. More investor registration eligibility criteria viewable here. BIO reserves, in its sole discretion, to make the determination of the proper classification of an investor or registrant for this event.

To register as an investor, use the following investor registration code INV0921220.