Awards Presentations and Fireside Chats
4:00 PM - 4:45 PM (EDT), Tuesday, September 22, 2020 ・ Interactive Online Session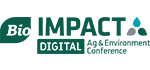 Winners of BIO's prestigious Agriculture and Environmental awards will share their perspectives on how industrial biotech has changed and evolved over the years and highlight promising opportunities for growth in the future.

The George Washington Carver Award was created to recognize significant contributions by individuals in the fields of industrial biotechnology and agriculture, and applications in biological engineering, environmental science, biorefining and biobased products. This award will emphasize the important goal of using biotech innovation to develop sustainable biobased value-chains. By honoring those who have worked successfully toward this goal in the private sector, government or academia, this award will serve as a lasting memorial to the original vision of George Washington Carver who, over a century ago, pioneered the creation and commercialization of sustainable biobased products and materials and energy derived from renewable agricultural feedstock.

Just as Rosalind Franklin paved the way for women in the biotechnology field, the BIO Rosalind Franklin Award will be presented to a pioneering woman in the industrial biotechnology and agriculture sectors who has made significant contributions to the advancement of the biobased economy and biotech innovation. The Rosalind Franklin Award will stand as a lasting memory to the legacy left by Rosalind Franklin, who was instrumental in the discovery and our greater understanding of the molecular structure of DNA, by honoring those women who too have made significant contributions in industrial biotechnology and agriculture. Through Rosalind Franklin's use of X-ray diffraction images, the true double helix structure of DNA was discovered. Indeed, it was with the help of Franklin's images and writings that eventually led Francis Crick and James Watson to release their 1953 model of the structure of DNA. Though often overlooked, Rosalind Franklin's critical work and discovery in the field has allowed the expansive growth of the biotechnology industry to become what it is today. As said by John Desmond Bernal, a fellow X-ray crystallographer, of Franklin's crystallographic portraits of DNA, "Her photographs were among the most beautiful X-ray photographs of any substance ever taken."
With this award we hope to not only honor Rosalind Franklin's legacy, but honor those women who have also shown exemplary leadership and led the way through previously uncharted territory.

The BIO Leadership and Legacy Award for outstanding and lasting contributions in the field of biotechnology is presented to an individual who dedicated a significant portion of his or her career to improving people's lives by growing access to transformative, biotech innovations. The recipient's exemplary leadership helped lay the groundwork for the continued growth and success of the modern bioeconomy. The BIO Leadership and Legacy Award honors those who leave a unique mark on the field of agricultural and industrial biotechnology.
Sponsored By
Vice President, International Affairs & Trade Policy
Biotechnology Innovation Organization