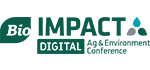 Find out how your company can get involved in the 2021 BIO IMPACT Webinar Series!
We have several new opportunities with the New BIO IMPACT Webinar Series! - contact us today for more info.
Explore Sponsorship Opportunities
Below are a few of the ways you can get involved as a sponsor during the BIO IMPACT Webinar Series
Our sponsors understand today's global challenges in setting forth a path towards a more sustainable future. Join us as a sponsor to support the role biotechnology plays in protecting our planet's resources, driving a strong economy, and improving people's lives.