Join 1,000 global biotech thought leaders, policy-makers, scientists, investors, CEOs, business development executives, solution providers and academics across sectors at BIO IMPACT Digital, September 21-22.
Below are important action items and reminders, with a focus on BIO One-on-One Partnering™ launch, opportunities for extra company exposure, and last chance for award nominations!

What's New?
BIO One-on-One Partnering Opens next week! Enjoy your weekend and look forward to hitting the ground running this Monday with a new way to cultivate critical business development over the next 6 weeks.
LAST CHANCE: Nominate an industry visionary who has pioneered efforts in industrial or agricultural biotechnology to be awarded one of BIO's Leadership & Innovation Awards by this Monday, August 10.
New attendees added from 14 countries and 14 states - 50% of registered attendees are VP and C-Level. Lookout for our attendee list next week!
Promote your presence: Visit our marketing toolkit to access a collection of logos, banners, and social media posts to showcase your involvement at the event.
Calling all innovators: Pitch your company and showcase your latest innovation to a global audience via company presentations. Apply today!
Curious about how networking works in the virtual world? Don't worry - we are behind the scenes creating every opportunity possible to allow for casual conversation and connections. Connect with our sponsorship team to get involved.
Meet Our Newest Sponsors
We are receiving great support from our sponsors - thank you to our newest sponsors this week: m2p-labs Microbioreactors and North Carolina.

Your Questions Answered
We know that your schedule during BIO IMPACT Digital won't look like a typical "event day" - so we're designing the program to fit your new norm with multiple timeslots and breaks throughout the day.
Five BIG questions we'll answer in our education program this September:

Wondering who you'll hear from? Stay tuned for some big announcements in the coming weeks - we've recruited great speakers!
Are Americans embracing sustainability, even during a pandemic? YES. That's the key finding from new research by BIO member Genomatica, which found the vast majority of Americans care about sustainability and want the public and private sectors to continue to focus on it, crisis or not.

Ready, Set, Partner
BIO One-On-One Partnering, sponsored by Nebraska Department of Economic Development, opens next week! Make sure you're registered by Monday for early access to the system - it takes just 5 minutes to register!
Access to global partners: Living in Japan and want to partner with companies in Belgium? We've got virtual enhancements including a 24-hour calendar that automatically detects your time zone, making it easy to schedule meetings with partners around the globe.
Become a Partnering Pro: Explore the one-stop-shop for all things BIO One-on-One Partnering including user guides, webinars, whitepapers, videos, and more.
Next Week: Look out for a full list of companies you can meet in BIO partnering during BIO IMPACT Digital!

Behind the Scenes with BIO: What's Happening This Week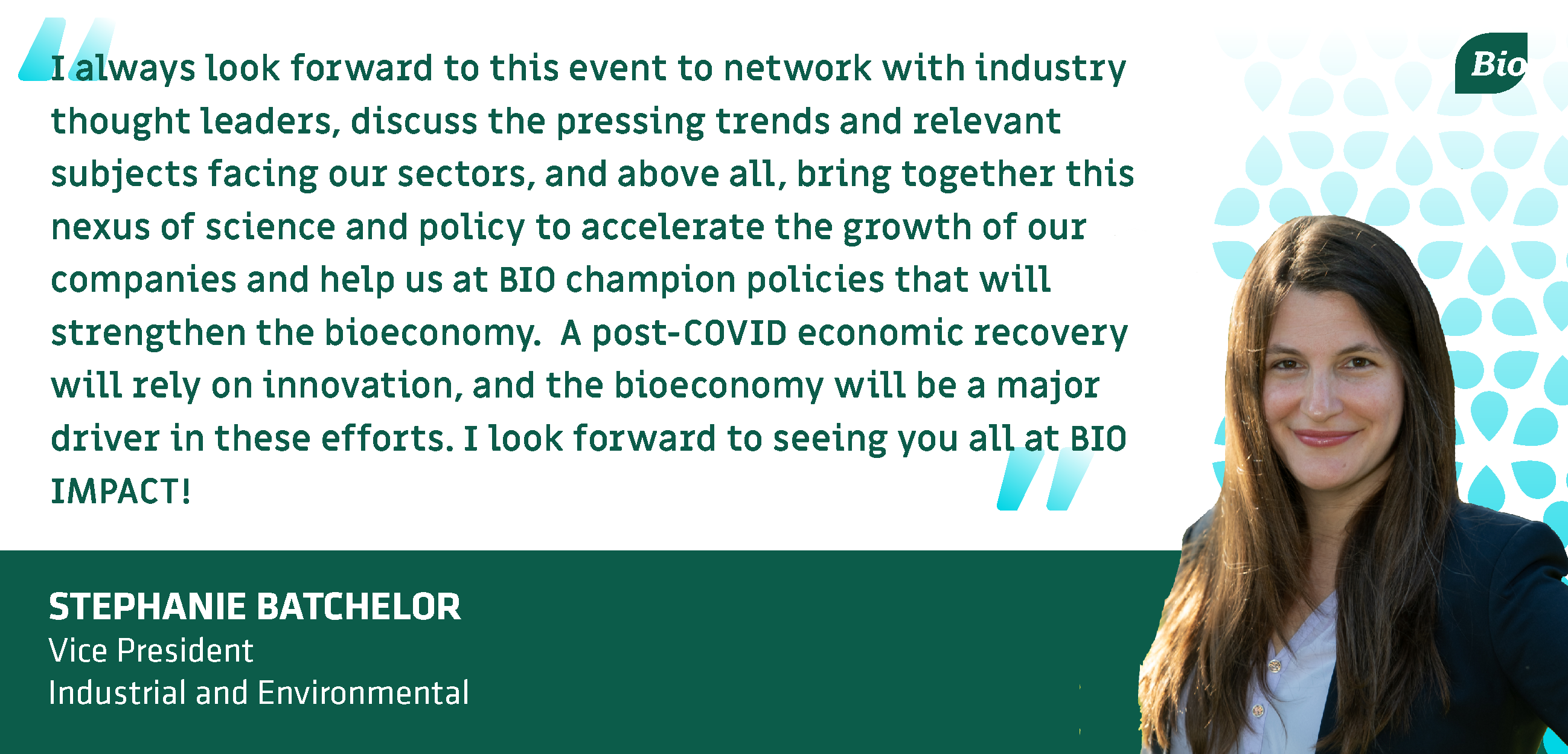 Have a question about BIO IMPACT Digital? Please review our Frequently Asked Questions that address many of our attendees and stakeholders common questions.