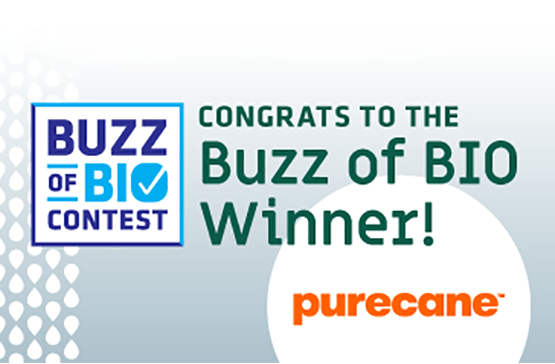 Announcing the Buzz of BIO Winner: Purecane
Purecane™ is an all-natural, zero-calorie sweetener developed using a unique, proprietary process which derives its main ingredient, Sugarcane Reb M, directly from sugarcane itself (so it tastes like sugar!) Purecane products are zero glycemic (Packets and Spoonable Family Canister), low glycemic (Baking Sweetener), non-GMO, vegan, keto-friendly, gluten-free, halal and kosher.
What is the Buzz of BIO Contest?
The Buzz of BIO contest provides an excellent opportunity for companies looking to make the connections needed to take their product to the next phase. Five companies will be nominated in each of the three categories: Food and Farm Innovation, Sustainable Fuels, and Biobased Manufacturing.  Please note that due to the complexities of international laws regarding contests, only U.S. residents who are 21 years of age or older are eligible to enter. 
There are two phases to the Buzz of BIO Contest: Nominations and Voting.
During the nominations period, we will collect nominations and review them to ensure they qualify for one of the three categories listed above, and that they meet the guidelines outlined in the contest rules here. Nominations will be open from August 12  - August 26.
During the voting period, nominees are encouraged to promote their participation in the contest via social media, email, etc. Voting will be open from August 31 - September 3.
Five finalists were selected to advance to the voting round to be recognized as the Buzz of BIO.Voting closed on September 3. Winner announced soon!
The companies with the most number of votes in each category at the end of the voting period will win a free company presentation and full-conference registration to BIO IMPACT Digital!
*Contest winners must complete and submit their recorded company presentation by September 14 to be featured in the BIO IMPACT Digital online education platform.  More instructions for submitting to follow. 

Read the official rules here. 
Contest Categories
To qualify for the Buzz of BIO Contest, your company must be working to develop products, technologies or solutions in one of the three categories below. For each category, companies must be headquartered in the U.S.
From enhancing crops to be resistant in the face of threats like disease and climate change to developing novel ingredients for popular food items, biotechnology is essential to sustaining the future of our global food system. How is your company using biology-based tools, like gene editing of plants and animals, to enhance natural processes?
The nation's transportation sector leads all others in greenhouse gas emissions. As we look to decarbonize travel—including for both road transport and aviation—sustainable fuels are increasingly important because we can't rely on electrification alone. How is your copmany using biotechnology to decarbonize transportation with biofuels made from a variety of non- petroleum feedstocks, like plants and agricultural residues?
There are 5 trillion pieces of plastic floating in our oceans. Our reliance on products derived from fossil fuels is harming our planet. Through biotechnology, we can meet this challenge head-on by making the same reliable materials through biobased manufacturing. How is your company working to meet the spurring consumer demand for sustainable products?