In accordance with its Bylaws and Articles of Incorporation, the Biotechnology Innovation Organization (BIO) is governed by its Board of Directors.  The Full BIO Board of Directors is comprised of all the directors sitting on the Section Governing Boards, as described below. 
In addition, there is a Board Executive Committee that consists of the seven Elected Officers of the Organization, the immediate Past Chair of the Organization, the Vice Chairs of each Section's Governing Board, and At-Large Directors selected from the Full Board.
There are three Section Governing Boards organized by industrial sector and policy interest. They are: (1) the Emerging Companies Section (ECS) Governing Board, (2) the Agriculture & Environment (A&E) Section Governing Board, and (3) the Health Section Governing Board. BIO's three Section Governing Boards are comprised of thought leaders who bring their expertise to bear on major issues affecting their specific area of the biotechnology industry.
From time to time, each Section Governing Board may consider candidates to fill vacancies in accordance with BIO's Bylaws and their own processes and criteria.  In general, BIO Board candidates should be the CEO or Chairman of the Board of a research and development (R&D) focused biotechnology company, but certain Governing Boards have alternative criteria, especially for larger companies.  To be considered for a BIO Board seat, a candidate typically has this type of affiliation with a BIO member company.  If your organization is not a BIO member, click here to learn more about membership.
 
BIO is committed to fostering workforce development, diversity, and inclusion (WDDI) at BIO and across the biotechnology industry.  To that end, candidates should affirmatively support BIO's WDDI Principles, and pledge to do her or his part to foster diversity and inclusion among employees, customers, and patients.  BIO's WDDI Principles can be found at: https://www.bio.org/diversity
If you are interested in nominating yourself or another person to be a candidate and potentially fill a vacancy on the BIO Board, please inquire here to learn more about the BIO Board nomination process:
If you have any questions about the BIO Board of Directors, please contact Peter McHugh at pmchugh@bio.org.
Learn about former BIO Executive Committee chairpersons. 
For reference, a diagram of the Board and Committee structure is presented below.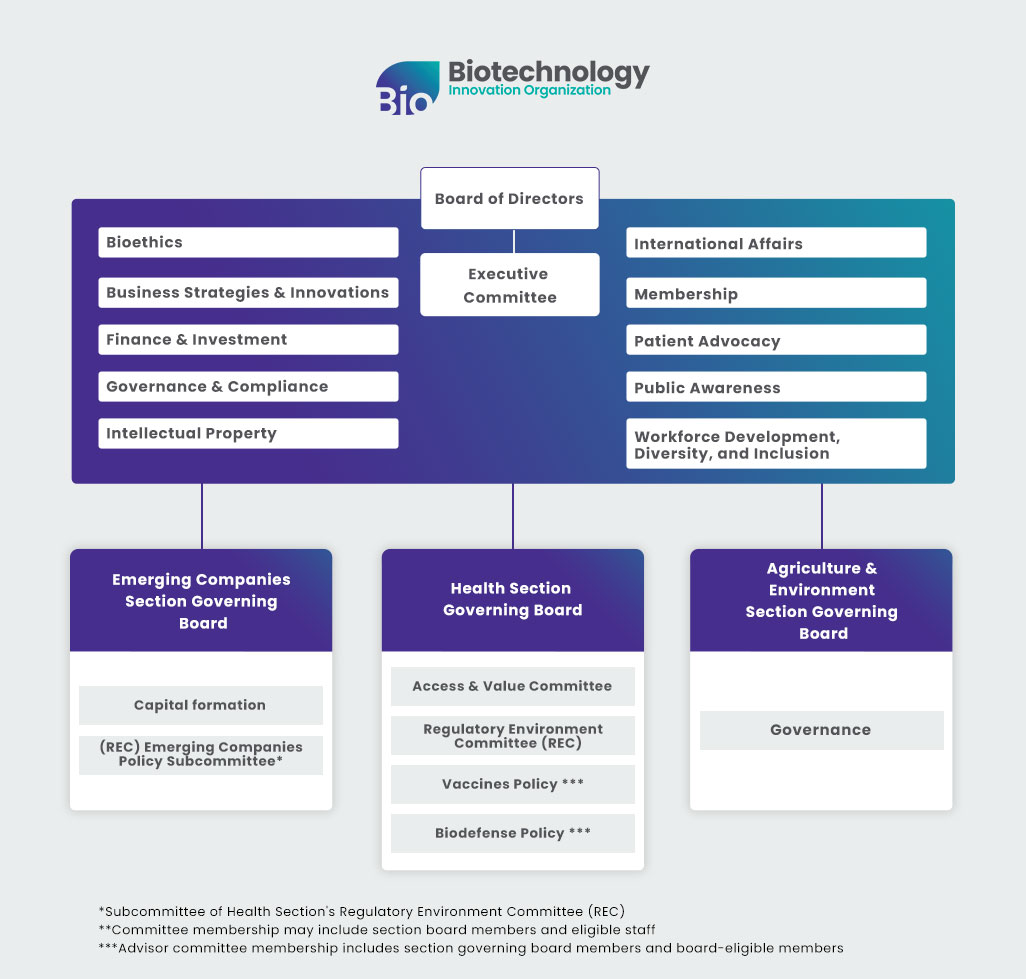 Expand All
Agriculture & Environment Governing Board
Emerging Companies Section Governing Board
Health Section Governing Board