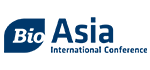 Download the Sponsorship Prospectus
If you are interested in learning more about the sponsorship opportunities at the 2020 BIO Asia International Conference, please complete the form below and we will email you a copy of our sponsorship prospectus.
Our Sales & Sponsorship team is always ready to support your event engagement. Please feel free to reach out to the team at +1.202.312.9264 or sponsor@bio.org to receive more information.