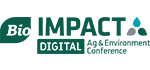 The BIO IMPACT Ag & Environment Digital Conference (Sept 21-22) will not only deliver a timely, dynamic education program and business development opportunities, but will also provide a variety of fun and interactive ways to connect with your industry colleagues both old and new!
Here are five ways you can plan to make new connections, virtually, with other attendees during the event (access to this and more starts at just $250). 

1. Interactive Virtual Exhibition
Discover new companies in the ag & environment biotech space! Network with exhibitors via live chat or video conferencing, and browse informational links and downloadable resources available in their customized profiles. The virtual exhibit allows you to move freely from company to company without toting a heavy bag of tchotchkes and brochures. Plan to meet our exhibitors during two interactive "Power Hour" networking events!
Interested in expanding your company's visibility during the event? Join the Virtual Exhibition.
2. Coffee Chats & Virtual Meetups
Break up your busy day of partnering and learning to meet attendees from around the world! Grab your choice of beverage, and network with leaders from across the industry via direct online chat and video networking during our Coffee Chat and Meet-Up events taking place on both days of the conference!

3. Bioeconomy Site Tours & Live Chat
While we won't be meeting in-person in Raleigh this year, you can still experience North Carolina's bioeconomy from anywhere in the world during the new, one-of-a-kind Bioeconomy Virtual Tour Program at BIO IMPACT Digital! Virtual tour sessions will provide a first-hand look into a few of the many cutting-edge research facilities that call North Carolina home. Attend the two multi-stop virtual tour sessions designed around plants and genes and the future of nutrition.

4. Start-Up Stadium Pitches & Live Chat
Entrepreneurs and their start-ups keep the bioeconomy vibrant. Meet the 2020 Start-Up Stadium finalists from around the world and watch their elevator pitches and feedback from contest judges. This session will use an exciting, new-to-BIO platform for direct Q&A and video networking for you, the finalists, and other members of the biotech community to interact and help the next generation of innovative companies succeed. 

5. BIO One-on-One Partnering™
Meet companies from around the globe that are working to solve the world's most pressing challenges. The enhanced system features allow you to schedule virtual meetings using your preferred method—whether that is a teleconference platform, video meeting service, or another medium—to maximize your business development.