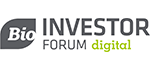 Thank You!

Thank you for your RSVP to the webinar: 2020 Biopharma Market Trends and Investment Insights with Real-World Perspectives.
You will receive a confirmation email shortly from BIO GoToWebinar with details to join the webinar.
Continue the conversation… Join us at BIO Investor Forum Digital, October 13-15, where David Thomas, BIO's Vice President of Industry Analysis will be leading a session, "BIO's State of VC Investment Trends."