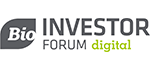 Now more than ever, start-ups are playing a critical role in transforming the biotechnology landscape, developing new technologies to treat patients and to offer urgent answers to medical needs. Through investment and collaboration, we can support their mission and accelerate their innovations.
Join us for BIO Investor Forum Digital, October 13-15, for three days of enhanced BIO One-on-One Partnering.  Register today so you can log into the system early, set up your company profile, update your calendar availability, and start requesting and accepting meetings. Our data shows that those who send meeting requests early schedule the most meetings. 
Thank you to our Partnering system sponsor, H.C. Wainwright & Co.