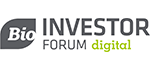 The success of the industry starts with you...
BIO would like to thank the loyal companies who have participated in BIO's "Triple Crown" of partnering meetings: BIO Investor Forum, BIO 1x1@JPM and BIO CEO & Investor Conference during the calendar year of 2020. These company representatives are considered "power users" of BIO One-on-One Partnering™, the leading technology platform for business partnering in the life sciences industry.
Triple Crown Recognition at BIO Investor Forum Digital
BIO Triple Crown supporters are eligible for an additional complimentary guest pass* and recognition via BIO's marketing channels.
*Complimentary guest pass applies to new registrants only and cannot be transferred. For more information, please contact Stacey Bowlin.
Read more about the 2019 Triple Crown Supporters and why BIO One-on-One Partnering is a critical element to their business development and R&D initiatives.
2020 BIO Triple Crown Supporters
Ab Studio Inc.
Alliance for Cancer Gene Therapy
Alpha Cancer Technologies Inc.
Alpine Immune Sciences
American Gene Technologies International Inc.
Aptorum Group Ltd.
Arch Venture Partners
Ashvattha Therapeutics, Inc.
Beacon Capital
Capital Family Office
Celmatix, Inc.
DHVC
Dyadic International, Inc.
Global Neurohealth Ventures
Golden Eagle Capital Advisors, Inc.
IMV Inc.

MAIA Biotechnology, Inc.
Mitsui & Co. Global Investment Inc.
Neumentum, Inc.
Notogen, Inc.
Onconova Therapeutics, Inc.
Oxidien Pharmaceuticals
Paras Biopharmaceuticals Finland Oy
Perseverance Capital Advisors LLC
Prevail Partners
ReForm Biologics, LLC
Roivant Sciences, Inc.
Sandhill Angels
SEngine Precision Medicine
Starlink Capital Inc.
WBB Securities
Xeraya Capital Life Venture