Trade Secrets: An Ounce of Prevention is Worth a Pound of Cure
Wednesday, July 28 at 1:00 PM EDT
A critical part of strategic planning for biotech companies is managing trade secrets. A panel of experts will provide information on preventative measures to protect trade secrets and to minimize allegations of trade secret misappropriation, including: identifying and managing trade secrets; employee agreements, policies, training and separation procedures; disclosure of trade secrets to others; and managing third-party trade secrets.
Featuring:
Christopher P. Borello, Partner, Venable LLP (Moderator)
Dr. Tashica Amirgholizadeh, Associate General Counsel, Intellectual Property, Gilead Sciences, Inc.
Danielle A. Lawrence, Associate, Venable LLP
Brendan O'Malley, VP, Head of Legal & IP and Corporate Secretary, Abeona Therapeutics
Explore What's New in Biotech IP
Biotech Intellectual Property Law in Focus is a new webinar series offering timely, relevant insights into the latest issues in the biotech intellectual property sector. The series will focus on what's new and important in the biotech IP landscape today.
Subscribe for updates to be the first to know when new webinar episodes are announced!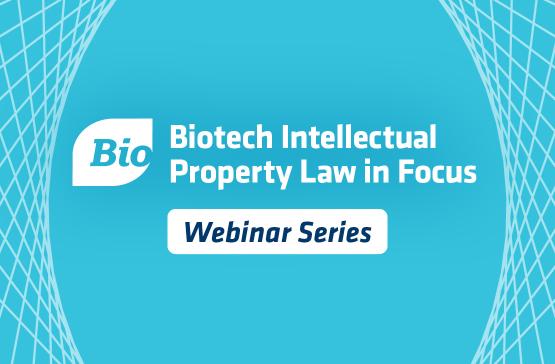 Exploring the Implications of the Election for Biotechnology and the Patent System
December 3, 2020 | 1:00 PM - 2:30 PM ET
What does the election mean for the patent system, and IP policy affecting biotechnology? Which issues are likely to be important to the IP field in the coming Congress, and which initiatives and policies may be on the agenda for the administration? This webinar will discuss expectations for the composition of relevant committees in the next Congress and the direction of legislative IP work in the coming year. Also, we will explore prospects in the executive branch affecting the direction of domestic IP policy and trade policy.
Featuring:
David Lachmann, Senior Director of Federal Government Relations, BIO (Moderator)
Dana Robert Colarulli, Partner, American Continental Group
Chris Israel, Partner, American Continental Group
Brian Pomper, Partner, Akin Gump Strauss Hauer & Feld LLP

Sponsor A Webinar Episode
Gain more exposure for your company among the Biotech Intellectual Property community! Contact the BIO Sales & Sponsorship team to learn more about sponsoring an upcoming webinar episode.
BIO advocates on behalf of our members' intellectual property rights at IP offices and in courts worldwide. The positions we take are shaped by our members. Click here to see if your company is a member, and if not, consider joining today.