7 Weeks Until BIO Digital
It's been a BIG week in the BIO Digital world.
BIO One-on-One Partnering officially launched, giving BIO Digital attendees access to the enhanced virtual system. Have you had a chance to log in yet? 
Below are important action items this week with a focus on BIO Partnering NEW features (and a new BIO record). Plus a new company list with who's already signed up! 

What's Trending This Week
Did you know? BIO Digital attendees represent all sectors of the biotech and pharma industry – from therapeutic and diagnostic companies, global investors, R&D services, universities, medtech, suppliers and professional services. Here's a snapshot of who's attending:

Over 60% of attendees are VP-level or above.
Our international attendance is growing rapidly each day, with Japan, Korea, and Germany leading this week by number of registered attendees.
100+ academic and research institutions, representing 20+ states and 42 countries.
Last week's Intro to Virtual Partnering webinar set a new record for attendees who joined us live. In case you missed the webinar, you can still request the recording to catch up on all the great new features we just added and designed with you in mind.

Momentum is Building for Partnering 

Programming Designed With You in Mind 
We know that your schedule during BIO Digital won't look like a typical "Convention day" - so we're designing the program to fit your new norm with multiple timeslots.
Plan for:

45+ panel sessions with live, interactive Q&A scheduled throughout the week
High level plenaries with leading experts focused on COVID-19 and critical topics to be announced in early May
150+ On-Demand Company Presentations
30 Start-Up Stadium Pitches

Miss a session? Your registration for BIO Digital includes on demand access to content after the event ends - for 90 days!

Behind the Scenes with BIO: What's Happening This Week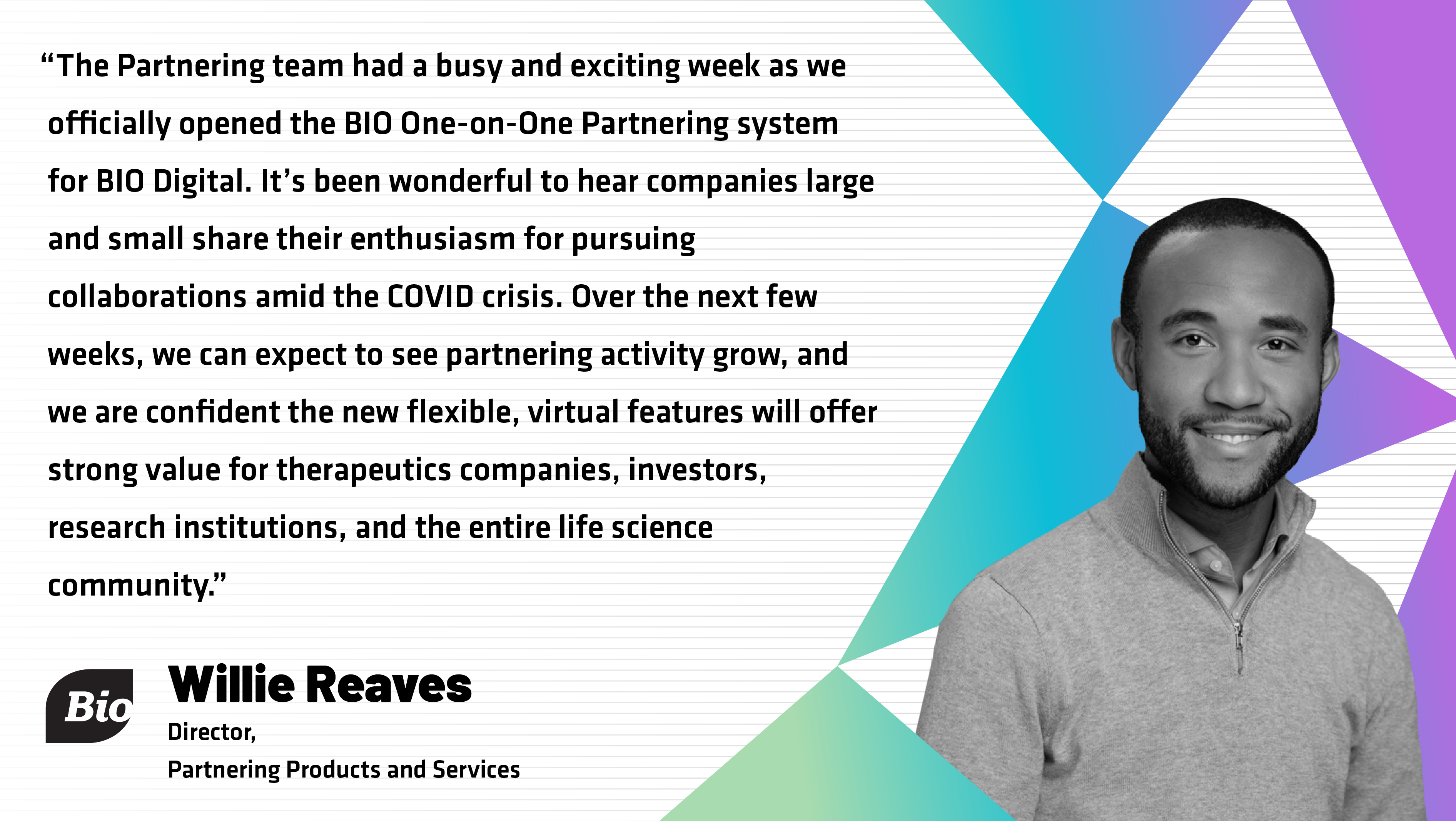 Have a question about BIO Digital? Please review our Frequently Asked Questions that address many of our attendees and stakeholders common questions.
What You've Been Saying About BIO Digital

"Count NIIMBL in! This will be a great opportunity to continue our presence at BIO under the current restrictions and limitations. Since we have experience with the partnering system, I'm confident we can still have productive interactions with prior contacts as well as new ones."
- Chris Yochim
Head Of Business Development
National Institute for Innovation in Manufacturing Biopharmaceuticals (NIIMBL)