It's Not Too Late to Register for BIO's Next Partnering Conference
BIO brings the world to your door in support of your development of new medicines. Will you join the hundreds of your colleagues, from 35 countries, that have already sent nearly 8,000 virtual partnering meeting requests for the BIO CEO & Investor Digital Conference? There is still time to register below and join your colleagues next week, February 16-18!
Registration starts at just $595 for BIO members. Qualifying investors receive complimentary registration.

Meet your next investment partner
Meet the hundreds of biotech companies and investors already registered and ready to partner, including:
Sample Partnering Investors
Aisling Capital
ARCH Venture Partners
Cowen Healthcare Investments
GE Ventures
Illumina Ventures
Mitsui & Co. Global Investment
New Enterprise Associates (NEA)
Qiming Venture Partners
Sofinnova Ventures
Venrock

Sample Partnering Companies:
Arcturus Therapeutics
Daré Bioscience
Hepion Pharmaceuticals
IgGenix
Iovance Biotherapeutics
MaxCyte
OncoSec Immunotherapies
Otsuka Pharmaceutical Co.
Sanofi US
Servier
Versartis

Discover biopharma's 2021 outlook
Get the pulse on biotech policy and investment trends, including a premiere of BIO's newest data on clinical success rates across indications and modalities. Join us for two-days of interactive and on demand sessions from expert speakers including an opening fireside chat with Nasdaq's CEO Adena Friedman, and then sessions with Dr. Marianne De Backer, EVP of BD&L for Bayer, Spotlight Therapeutics's CEO Dr. Mary Haak-Frendscho, Merck's Chief Patient Officer Dr. Julie Gerberding, Dr. Adam Koppel of Bain Capital Life Sciences, Beigene's CEO John Oyler, and Resilience's CEO Dr. Rahul Singhvi, among many others.
Clinical Success Rates and What is Driving Them (NEW DATA)
Deal Making in a New Decade: Lessons Learned and Planning for Tomorrow
SPACs: Criteria for Successful Launches
Policy Outlook: Reviewing the Pathway for Advancing Biopharma Goals in Congress and the White House
Hear the latest on COVID-19 vaccines and therapeutics, drug pricing policy, and regulatory guidance including PDUFA VII from experts within the Beltway and company executives to prepare for the next four years.
Market Outlook—Breaking More Records or Expecting a Releveling?

Networking Opportunities
In addition to BIO One-on-One Partnering, join us for a networking hour each day and interact live with a new group of companies!
Each dedicated networking hour provides an opportunity to hear from companies at assigned topic tables. Investors and attendees can connect via video conferencing for face-to-face discussion with presenting companies.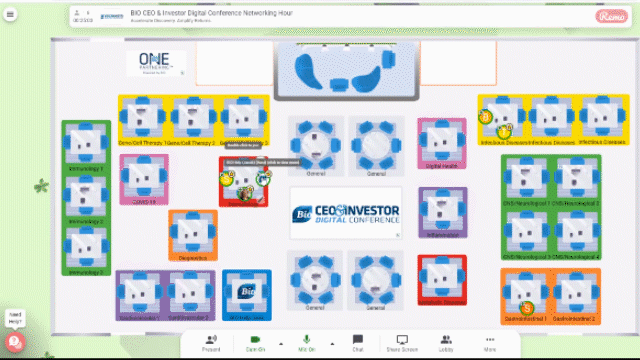 Thank you to our 2021 Sponsors!